A Place of True Relaxation Located Downtown.
Experience real natural allure outdoors, & truly premium comfort with us.
Book your stay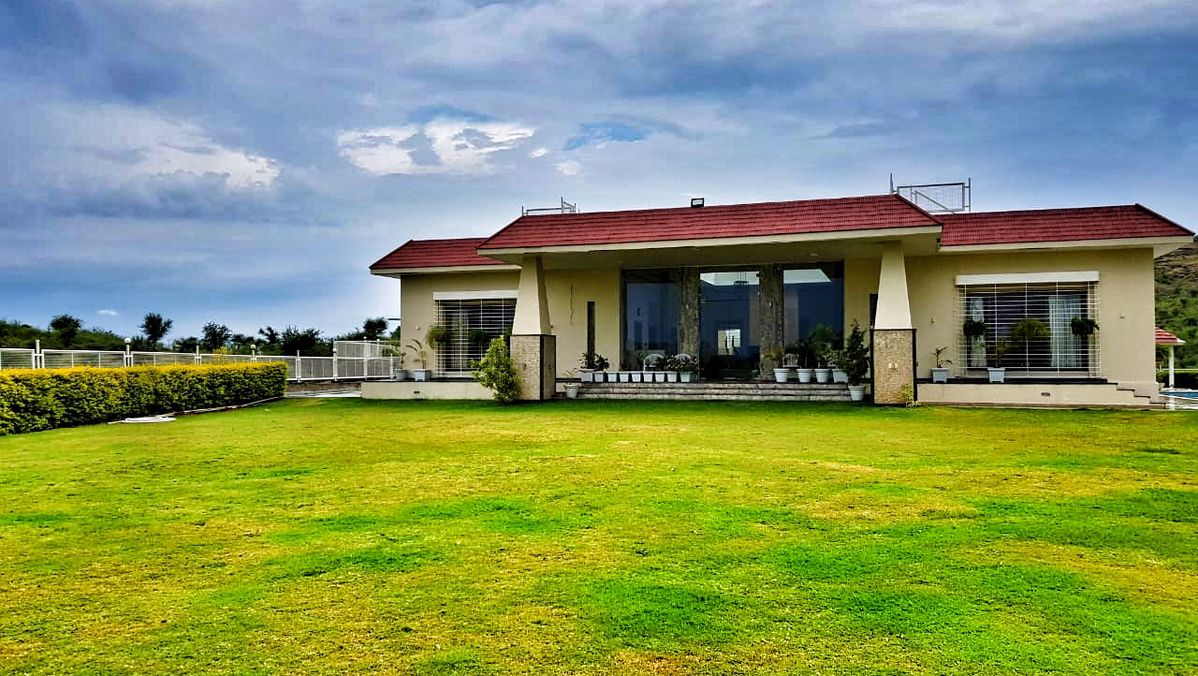 Premium Comfort With
Great Care to Detail.

Experience real natural allure outdoors, & truly premium comfort with us.
Book your stay
Where Your Stay Matters
to All Staff Members.

Experience real natural allure outdoors, & truly premium comfort with us.
Book your stay
Exotic Destinations With
Modern-day Luxury.

Experience real natural allure outdoors, & truly premium comfort with us.
Book your stay
Shourya Collections
Welcome to Shourya Luxury Villa
Surrounded by lush green rolling slopes of the Aravalli mountain range, situated atop a private hillock, Shourya Luxury Villa by Shourya Collection Hotels & Resorts offers a unique soul-soothing luxury experience to reconnect with nature, unwind and re-discover yourself away from the humdrum of the city chores. 
Shourya Luxury Villa is a three-bedroom residence that incorporates an infinity sky deck, a private swimming pool, a lush green terrace with a sweeping view of the mountains and a lush green valley. 
At _________ square metres (__________ square feet), the residence offers small groups and families alike the opportunity to reconnect in peaceful seclusion in the village Morwaniya in Udaipur, only a ten-minute drive from the Lake Badi and twenty minutes from Fateh Sagar Lake. 
Social spaces including the pool and expansive terrace, infinity sky deck, sunset lounge along with atrium dining and floor-to-ceiling glass window lounge, guests can enjoy the vistas of the beautiful surrounding. A butler is also on hand 24/7 to make every stay as seamless as possible.
The villa is designed to merge with nature and yet stand out with its avant-garde architecture that blends perfectly well with the luxurious setting.
The golden hour view of a setting sun in the Lake Badi or Aravalli backdrop is a remarkable experience with a rejuvenating & serene calmness close to nature, clean air, water bodies and forest skies that turn from sky blue to millions of stars at night! At Shourya Luxury Villa, our team will tailor-make this end-of-day experience to suit the requisite.
Sacred springs, shrines and statues dot the wilderness of the Kundal Ubeshwar ji Temple, where Lord Shiva is worshipped. A popular picnic spot among the locals, especially during monsoon, is only ten minutes away from the villa.
Find your Zen with our curated Yoga and mindfulness sessions available on special request
Udaipur is Rajasthan's artistic heart, full of galleries and home to many artists, while the villages nearby have been known for centuries for the work of their artisans. Visit the tucked away village ateliers of wood carvers and Traditional miniature painters, or take a lesson with an artist living nearby.
Spend a peaceful morning or afternoon with a local artist with a private painting session. Create anything from a simple local shrine to a colourful natural scene of Udaipuri's surroundings.
Shourya Luxury Villa offers countless trails and pathways leading into the natural wonderland that surrounds the property. Tailored to time available and fitness levels, our trained guides can arrange a trek through the rugged hill slopes, and tranquil villages, with a picnic overlooking the Valley as a well-deserved reward.
Cycling is a superb way to experience nature up close and personal, whether pedalling through remote villages, crossing peaceful wheat or corn fields or freewheeling down endless downhills on quiet back roads. We at Shourya Luxury Villa offer a guided cycling tour to the guests to experience the locale in completely off-the-beaten-track route.
For those looking for a challenge, the region offers some spectacular peaks that are well worth summiting for spectacular sunrise or sunset views. Offering a breathtaking 360 degree view of the picturesque Lake Badi, Bahubali Hill is only a five minutes' drive from the Villa can be summited in around twenty minutes, depending on fitness levels, and provides a breathtaking setting for a picnic breakfast carried up by your personal guide.
Where every meal, event, activity and amenity is carefully crafted for each guest individually
Accommodation
We Manage It All.
All the three guest bedrooms in this luxury villa offer king-sized beds, private bathrooms with showers, floor-to-ceiling glass windows on one side offering the panoramic view while ensuring ample space and privacy. We offer a range of eco-conscious toiletries and amenities for our guests to ensure our sustainable approach towards luxury travel and hospitality.
Two of the guest rooms are connected with private access to the pool area while the third bedroom offers an one-eighty degree view of the lush manicured lawn and the panoramic vistas in the background. 
All rooms have a closet, electronic safe, LED television, wireless internet access.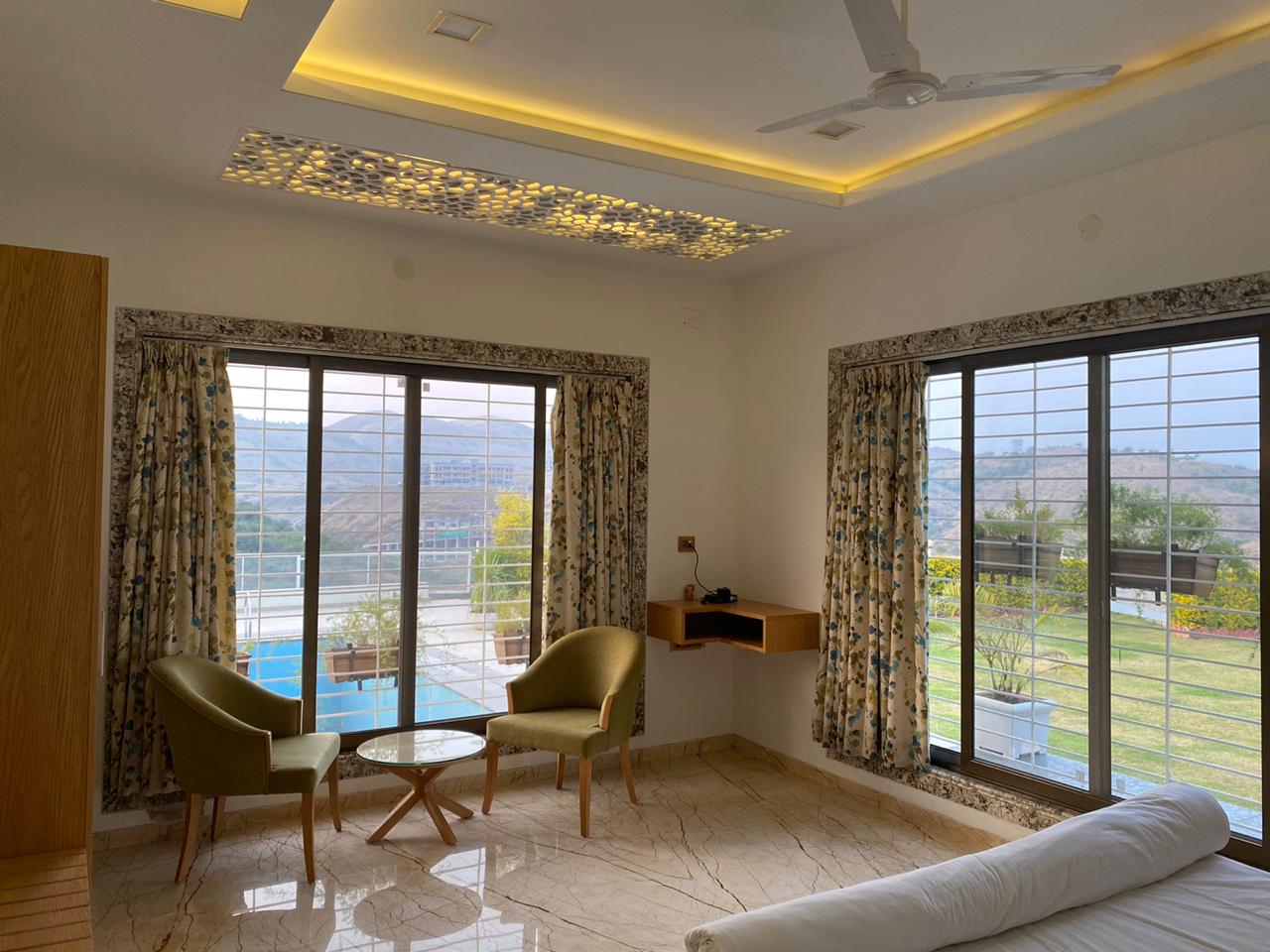 "Everything from welcome drink to departure was awesome. Very good, cooperative and docile staff including the front desk. The food quality and ambience of the restaurant were impeccable. Rooms were clean, hygienic and spacious. The place is a treat for photography lovers as it has an awesome location for pictures. 10/10. Total value for money. A must go resort for all in and out visitors bound for Udaipur."
"Location, food, hygiene and safety standards are excellent if you have time you may enjoy here."
"Everything about the resort is simply amazing. The resort gives the feel of a palace, rooms are spacious and clean, food is delicious and the best part is the hospitality. Highly recommended place to spend leisure time. The resort has cycles which we enjoyed the most."
"The resort was better than our expectations. We have spend 2 days there; it was an awesome experience. We stayed in the family suite and it was a lovely spacious room with a jacuzzi. Everything was clean, well maintained. Staff behaviour was nice, everybody was perfect in their service. Overall it was amazing"
"The stay was excellent, the cuisine is awesome, the flavours of food was great, superb ambience. Would like to stay once again. The external setup is very good. The location is very good. The staff is very courteous."
"The resort is located close to the Fateh Sagar lake; however free of the hustle-bustle of being close to the city of Udaipur. Best place for a staycation, The resort gives the feel of a palace. The staff is very polite and prompt. This place serves the Best brownies I have ever had in Udaipur."
Surrounded by lush green rolling slopes of Aravalli mountain range, situated atop a private hillock, Shourya Luxury Villa by
Our Studio Rooms offer a compact yet contemporarily designed space with a double bed for a good night's sleep after you spend
Atrium Dining space at the centre of the villa is one of the unique experiences that our guests enjoy while staying with us.
We wish you a warm welcome to Shourya Luxury Villa, your perfect getaway spot.
Morwanity Village, Ubeshwar ji road, Udaipur